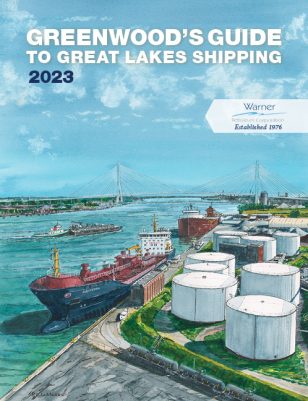 2023 Edition Available Now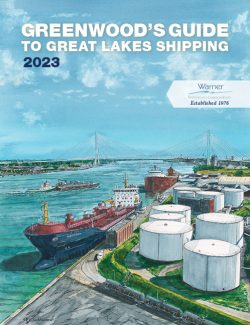 Greenwood's Guide to Great Lakes Shipping

A staple in the Great Lakes/Seaway shipping community, Greenwood's Guide is utilized by all segments of the Great Lakes shipping industry. Greenwood's Guide is available in high-quality print and as a PDF download.
Hard-cover in handy 6″ x 9″ size

31 tabs provide quick, easy reference

Updated annually with detailed information not available from any other source
Greenwood's Guide Sections Include:
Alternate Power
Bulk Freighters
Cargo Barges & Crane Vessels
Coal Docks
Compartment Capacities
Contacts
Education & Training
Environmental
Fleets
Fuel Used by Vessels & Horsepower
General Cargo Docks & Stevedoring
Grain Elevators
Liquid Cargo Docks & Bunkering
Longevity & Size Tables
Operational Services
Ore Docks
Package Freighters, Cars & Passenger Ferries
Passenger Cruising
Port Profiles & Mileage
Port, Vessel & Advertiser Index
Professional Services
Repair & Equipment Providers
Research & Government Vessels
Security & Tolls
Self-Unloaders
Shipyards – Dry Docks
Steamship Agents/Brokers, Forwarders/Stevedores
Stone, Sand & Dry Bulk Cargo Docks
Tank Vessels
Terms & Assumptions
Tugs, Towing & Salvage
Questions about Greenwood's Guide?